HOME
ABOUT
BIOS
THE IMBEWU TRUST
TIN BUCKET DRUM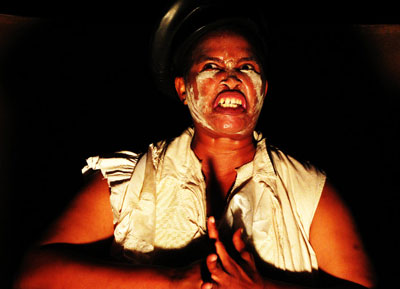 AN ORIGINAL PLAY FROM SOUTH AFRICA NEW YORK PREMIERE JULY 26-AUGUST 5 PRESS PERFORMANCES JULY 26, 27, & 28

$18/$15 Students and Seniors


The Imbewu Trust aims to celebrate local South African theatre internationally by highlighting original work with a global resonance. In collaboration with Horse Trade Theater Group, The Imbewu Trust will showcase Think Theatre Productions' TIN BUCKET DRUM, performed by leading South African artists that have enriched the South African theatre landscape with their original and unique approach to theatrical storytelling.
Neil Coppen's (2011 Standard Bank Young Artist Award winner) play, directed by Karen Logan, follows the story of Nomvula, a spirited child with a revolutionary heart born into a country with a cruel and silent dictatorship. Tin Bucket Drum weaves together elements of magical realism, shadow puppetry, Kabuki theatre and live percussion while offering a fresh twist to the traditional conventions of African storytelling.
Critically acclaimed with standing ovations at the Grahamstown and Hilton Arts festivals, Tin Bucket Drum won the Audience Vote Award for Best Production at MUSHO 2007, A Durban Theatre Award for best actress and best new South African script 2007, and a Standard Bank Ovation award at the Grahamstown 2010 festival. It was featured as The Star, Pretoria Times, The Herald and Witnesses Newspapers pick of the Grahamstown Fringe in 2007.
NEIL COPPEN (Playwright) works as an actor, writer, director and designer in Durban. His
numerous collaborations include works with visual artists, writers, community groups, filmmakers, authors, animators, choreographers and musicians. Neil's plays include Suicidal Pigeons, Two…The Beginning of the End (co-written and performed alongside Clare Mortimer) Tin Bucket Drum and Tree Boy. He was recently included in the Mail & Guardian 200 Young South African's list and has won several awards for his work including the Standard Bank Young Artist Award for Drama in 2011. His latest work Abnormal Loads headlined 2011 National Arts Festival and is to be performed at both The Playhouse Durban and The Market Theatrein Johannesburg. Neil is currently designing Little Foot for The Market Theatre while developing several new stage and film projects.

KAREN LOGAN (Director) is a director, theatre-maker, actress and filmmaker who runs
her own production company, Amehlo Productions. With an honors degree in Theatre and Performance from UCT and three years training in television in London behind her, Karen currently divides her time between directing for stage and film, and editing documentaries. Karen also regularly collaborates with Iain Ewok Robinson in creating multi-media theatre productions. In October 2010 the team were invited to travel to Sweden where they took part in the Ordsprak Uppsala International Poetry Festival with their multi-media theatre show iainEWOKrobinson is Live. In 2011 Amehlo Productions received funding and an invitation from the National Foundation of Arts to produce their latest show, Seriously? on the Arena platform of the National Grahamstown Arts Festival. Combining her theatre and video background has also led to numerous collaborations with theatre and dance practitioners on a national level. Karen worked in conjunction with director Paul Warrick Griffin to produce
the visuals for Peter Toerien's EVITA which was recently awarded with 7 Naledi awards, and recognized at the South Africa's Premiere Theatre Awards. Most recently Karen collaborated with UK based Jamie Catto of 1 Giant Leap fame to co-produce Ubuntu Child, a documentary that saw several international poets and performers, including the legendary Sage Francis,
brought out to South Africa to engage with a group of HIV positive children undergoing a new kind of treatment for HIV. This feature length documentary is now in the late stages of post-production with Karen heading up the team from Durban, South Africa.