ART RAISER!!! SAVE USM and Send No Traveler to Winnipeg!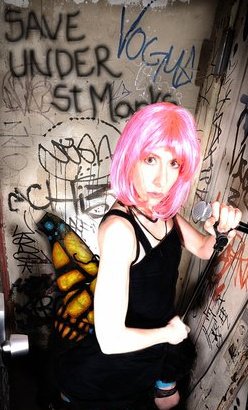 SUNDAY
JUNE 19th
3pm-10pm
UNDER St. Marks Theater
$10 suggested donation
ALL proceeds are split half to SAVE UNDER St. Marks Theater and half to help send Penny Pollak's No Traveler to the Winnipeg Fringe Festival.
The rundown for Sunday the 19th UNDER St. Marks Theater!
Doors open at 3 pm
Food will be set up in the sunny back garden.
The bar which includes beer, wine and sake will also be open all day.
From 4pm-6pm Mike Milazzo and Broken Arrow will be playing originals, covers and taking requests!
There will be an Open Jam around 5 to 5:30ish, so bring your instruments if you want to play!
Raffle Tickets are $2 and will be sold all day.
Around 7:30 we will start an informal 2 hour Open mic.
Looking forward to seeing everybody there and thank you all in advance for your support!
Amazing Raffle Prizes to be given away on Sunday!
Super MiniFridge Tickets
2 tickets to Michelle Leona's MiniFringe show The Star of Happiness: Helen Keller on Vaudeville
Save UNDER St. Marks Posters and T-shirts courtesy of Rodney Rigoli
2 for 1 Drinks at Fish Bar Film night
Free shot at Continental and to be written into a Jessica Faller True life nyc Story
A poetry and Wine Basket courtesy of Michelle Augello-Page
Free entrance and drink Tickets at Alter Ego
Free Coffee and Biscotti for 2 at Porto Rico Coffee Store, 201 Bleecker St. courtesy of Mike Ogletree.
Signed copy of a Mike Ogletree CD
A song of choice at a place of choice by Mike Ogletree
Mike Milazzo CD's
Killer Kelly Dwyer cd's
An Umberto MacDougal T-shirt and Limerick
A spot in a 6 week Improv course with Samantha Jones and one free hour of one on one coaching with Sam
A copy of Ben Couch's chapbook "Relationships I Might Have Had"
2 tickets to a NETS game next season donated by Ben Couch
Lady Scoutington Underpants
2 Bronx Zoo Tickets Courtesy of Bricken Sparicino
2 hours of Ms Mac Macintosh computer wrangling
A Brooke McGowen Framed Print
Drunken Focus Group poster and written into a Jon Savoy Joke
Written into a Lee G-B Limerick
Featured interview in Getting Clean for Jesus
London, Yesterday, Today and Tomorrow." (1925) By Charles Harper. With 79 illustrations by the author. 240 pgs. Hardcover.
and
Morocco: Album Published by the Protectorate of the French Republic at Morocco." Oversized 1920s travel booklet. Illustrated with color aquarelles, maroon woodcuts and B&W "photographies." Paperback, hand-bound with cord donated by Gregory Levine
Books donated by Agrippa Weyer
Books donated by Peter D.
Artwork by Joe Yoga
And finally a A real life original Michael Birch hat

Horse Trade and UNDER St. Marks!!!!!
Horse Trade Theater Group's UNDER St. Marks Theater was the first home of Penny's show, No Traveler, currently getting ready to premiere in Winnipeg this summer. The building that houses the theater is being sold, putting UNDER St. Marks in danger of closing...BUT Horse Trade wants to buy the building! That's where your donations come in! Not only will Penny be able to take her show to Canada, but you'll be helping other independently produced shows like Penny's find a home in this very special space.
To find out more about No Traveler, please go to pennypollak.com