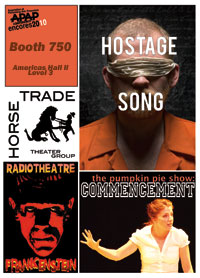 Horse Trade Theater Group brings back full performances of the critically acclaimed Hostage Song, The Pumpkin Pie Show: commencement, and Radiotheatre's Frankenstein
Limited Engagement
as part of
the Association of Performing Arts Presenters Conference.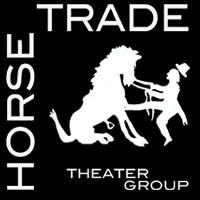 All encore performances will be at
The Kraine Theater
85 East 4th Street
between 2nd Ave and Bowery

Tickets to all shows ($18, unless otherwise noted) may be purchased online at www.horseTRADE.info or by calling 212-868-4444.

January 6 & 11 @ 7pm
January 9 & 13 @ 8pm

Hostage Song
Written by Clay McLeod Chapman
Music & lyrics by Kyle Jarrow

Bound and blindfolded in a war-torn country, two hostages take refuge in music, memory and each other in this new indie-rock musical.

"In this season of unlikely musicals, on Broadway and off, 'Hostage Song' may be the oddest of all…fantasy is transformed into an emotionally sustained reality"
Charles Isherwood, The New York Times
January 7 & 8 @ 9pm, January 12 @ 7pm

The Pumpkin Pie Show: commencement
Written by Clay McLeod Chapman
Performed by Hanna Cheek

This edition of The Pumpkin Pie Show explores the bond formed between three women in the wake of a high school tragedy.

"...an actor of rare gifts... someday Hollywood will steal her, so you have to snatch at every chance to see [Hanna Cheek] onstage." Helen Shaw, Time Out NY
January 7, 8, & 10 @ 7pm, January 9 @ 6pm

Frankenstein
Presented by Radiotheatre

Critically-acclaimed, award-winning RADIOTHEATRE brings you Mary Shelley's masterpiece, FRANKENSTEIN, adapted for the stage with a great cast of story tellers, an original orchestral score and a plethora of sound effects! All that is required is your imagination!